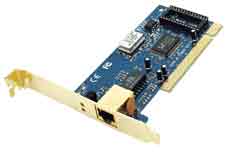 Details
FASTline PCI Realtek Fast Ethernet Adapter Zur Übersicht
GOLDline Ethernet - FASTline PCI Realtek Fast Ethernet Adapter
Hohe Leistungsfähigkeit bei gleichzeitiger umfassender Anpassungsfähigkeit an unterschiedliche Anforderungen und Software-Standards: Die Compu-Shack Fast Ethernet Karte FASTline PCI Realtek verbindet diese an sich unterschiedlichen Anforderungen in idealer Weise miteinander.


The Compu-Shack Ethernet card FASTline PCI Realtek joining high performance and full adaptation to different requirements and software standard. These cards are ideal for using in Workstations and Server.


Produkteigenschaften
Unter allen Betriebsbedingungen, sowohl in leistungsfähigen Serversystemen als auch in PC-Arbeitsstationen, wird sehr gute Performance erreicht. Aufgrund der Full-Duplex-Betriebsart sind diese Adapterkarten besonders auch für den Betrieb an Switching Hubs geeignet. Über RJ-45 Steckertechnik werden maximale Bandbreiten von 20 MBit/s bei 10BaseT und 200 MBit/s bei 100Base-TX erreicht.Das optionale Flow Control Feature vermeidet zuverlässig Paketverlust bei Überlastung des Netzwerks und erreicht damit noch eine Steigerung der erzielbaren Bandbreite. Die 32-Bit PCI Busmasterarchitektur gewährleistet einen maximalen Datendurchsatz bei geringer CPU-Auslastung.


Produkteigenschaften
The FASTline PCI Realtek Ethernet card achieves optimal performance under all operating conditions, be it in usage with high power servers or in simple PC-based work-stations. Thanks to the optional full-duplex operating capability, all cards are also ideally suited for use in applications with Switching-Hubs. Bandwidths of up to 20 MBit/s with 10BaseT operation and 200 MBit/s with 100BaseTX operation can be achieved. The 32 Bit PCI busmaster structure guarantees maximum system data throughput with minimal CPU utilization. The optional flow control feature avoids packet loss in congested network situations and therefore further increases useful bandwidth. The card is equipped with two diagnostic LED's which show traffic flow and active connections (links).


Technische Daten

- Datenbus: 32-Bit PCI-Bus, Busmaster, für 5 Volt Betrieb
- C-MOS-Controller-Chip: RTL8139A
- Übertragungsmedium: 10 Mbps: UTP Cat. 3,4 oder 5. 100 Mbps: UTP, Cat. 5.
- Interface: RJ-45, 100 Ohm, Reichweite: 100 m
- Autonegotiation Funktion (NWAY)
- Full Duplex und Halbduplex gemäß 802.3x umschaltbar
- Flow Control nach 802.3x
- PCI Bus Power Management Interface Specification Rev 1.0
- Baugröße: 60 x120 mm
- Boot-PROM: optional (16k, 32k, 64k und 128k EPROM)
- Shared Interrupts werden unterstützt
- Programmierbare Burstgrößen
- Jumperless Design mit Software-Konfiguration
- Automatische Konfiguration des I/O-Bereichs durch das PCI-BIOS
- Optische Anzeigen: Transmit, Receive
- Leistungsaufnahme: 5V/350mA (bei 10BaseT); 5V/360mA (bei 100BaseTX)


Treibersupport

- Microsoft Windows 9x/ME/XP/2000/NT
- Novell NetWare
- Linux
- SCO Unix


Technical Specifications:

- Data bus: 32 Bit, PCI/Rev 2.1, works in 5V environments
- C-MOS controller chip: RTL8139c
- Transmission media:10 Mbit/s: UTP cable "cat 3, 4 or 5"100 Mbit/s: UTP cable "cat 5"
- Interface: RJ45, 100 ohm, range: 100m
- Auto-Negotiation (NWAY)
- Full- and Half-Duplex selectable (802.3x)
- Flow control (802.3x)
- PCI-Bus Power management interface specification Rev 1.0
- Boot-PROM: optional (16k, 32k, 64k and 128k EPROM)
- Shared interrupts are supported
- Programmable burst size
- Jumperless design with software configuration
- Automatic configuration of the I/O area through the PCI BIOS
- Optical Indicators: Traffic,Link



Produkte
| | | |
| --- | --- | --- |
| Beschreibung | Bestellnummer | Preis |
| FASTline PCI UTP 10/100 Realtek-Chip | CS-23-550-02 | 11.90 EUR |
---
Alle Preise verstehen sich rein netto, in EUR, zzgl. der gesetzlich gültigen MwSt.Darüber hinaus gelten ausschließlich die "Allgemeinen Geschäftsbedingungen" der Firma cyberpresent.de.
---
---
© Copyright by cyberpresent.de