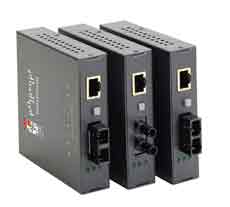 Details
CONVERTline100 100 MBit Media Converter Zur Übersicht
GOLDline Ethernet - 100MBit Media Converter, Fiber Optic
Kosteneffiziente Migration von Twisted Pair auf Glasfaser
Mit den Produkten aus der CONVERTline100 Fast Ethernet Media-Converter Serie ist das Umwandeln von 100BaseTX zu 100BaseFX einfach und kosteneffizient. Die Media Converter sind speziell dafür gedacht, bestehende Distanzen zwischen zwei Fast Ethernet UTP-Cat. 5 Netzwerken über Glasfaserkabel auszuweiten. Beste Performance wird dabei gewährleistet. Wie auch bei den Fiber Optic Switches und Adapterkarten, werden alle gängigen Front End Technologien wie ST, Duplex SC, Volition und MT-RJ unterstützt. Die CONVERTline100 Media Converter bilden die ideale Lösung, um Netzwerke auf verschiedenen Etagen und in verschiedenen Gebäuden miteinander zu verbinden. Des weiteren können in einer Vollduplex Netzwerkumgebung Distanzen bis 15 km zwischen Servern und Workgroups überbrückt werden.


Cost saving Migration from Twisted Pair to Fiber-Optic
The CONVERTline100 Fast Ethernet media converter series allows cost-effective and easy migration from 100base-TX to 100base-FX. The media converter is particularly useful for bridging greater distances between two Fast Ethernet UTP-CAT 5 networks via a fiber optic cable. Optimal performance is therefore ensured. As with the GOLDline fiber optic switches and adapter cards, all common front-end technologies such as ST, duplex SC, Volition and MT-RJ are supported. The CONVERTline100 media converters form the ideal solution for connecting networks between different floors in a building or indeed, connecting different buildings. Furthermore, it is possible to bridge distances of up to 15 km between servers and workgroups.


Technische Eigenschaften

- Standard IEEE 802.3u Fast Ethernet 100BaseTX und 100BaseFX
- Umwandlung von UTP zu Fiber Optic Media Typen
- Erweitert Netzwerkausdehnung von 2 km (Multimode Glasfaser) bis zu 15 km (Singlemode)
- Verfügt über einen Push-Button, um die Cross-Over Funktion für den TP Port einzuschalten
- F/O Kabel: MM: 1300nm 62.5/125


Technical Data
· 802.3u 100base-TX / base-FX.· Transformation from UTP to fiber optic media types.· Extended network expansion from 2km (multimode fiber optic);up to 15km (single mode).· Equipped with push-button, to switch on cross over function of the TP port.· LED status indicators.· Large variety of fiber Front ends, including duplex-ST, SC, MT-RJ and VF-45.· Standard IEEE 802.3u Fast Ethernet 100base-TX and 100base-FX.· F/O cable: MM: 1300nm 62.5/125



Produkte
| | | |
| --- | --- | --- |
| Beschreibung | Bestellnummer | Preis |
| CONVERTline100 100TX nach 100FX/ST, Multimode 2km | CS-23-545-08 | 155.49 EUR |
| CONVERTline100 100TX nach 100FX/SC, Multimode 2km | CS-23-545-09 | 155.49 EUR |
| CONVERTline100 100TX nach 100FX/SC, Singlemode15km | CS-23-545-10 | 470.93 EUR |
---
Alle Preise verstehen sich rein netto, in EUR, zzgl. der gesetzlich gültigen MwSt.Darüber hinaus gelten ausschließlich die "Allgemeinen Geschäftsbedingungen" der Firma cyberpresent.de.
---
---
© Copyright by cyberpresent.de