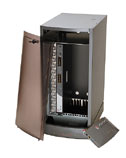 Details
COMPACTlineMAXI 19" SOHO-Gehäuselösung Zur Übersicht
GOLDline Ethernet - Gehäusekonzepte
Professionelle 19" Gehäuselösung mit dezentem Design
COMPACTlineMaxi die Lösung für eine übersichtliche Verkabelung. Mit seinem 19" Rahmen mit 6 Höheneinheiten bietet er den erforderlichen Platz für aktive und passive Komponenten. Eskönnen Patchfelder für bis zu 48 x RJ45 Anschlüsse, sowie z.B. der SWITCHline16A oder 24A eingebaut werden. Für nicht 19"-fähige Geräte, wie z.B. einem Printserver oder Router, steht ein feststehender Aufsatz zur Verfügung. Je nach Platzbedarfsind optional weitere Aufsätze erhältlich. Gleichermaßen wie der MINI ist das MAXI-Gehäuse mit seitlichem Kabelführungskanal und vertikaler Ordnungstrennung versehen. Das knickfrei verlegte Kabel wird durch eine entsprechende Zugentlastung gesichert. Die Stromversorgung erfolgt über eine integrierte 5-fach Steckerleiste.Ungewollter Zugriff wird durch die abschließbare Tür verhindert.Die COMPACTlineMAXI Lösung ist prädestiniert für Workgroupbereiche. So kann die direkt am Gebäude-Backbone angeschlossene Gehäuselösung eine komplette Workgroup bedienen,wobei die Verkabelung zu den Arbeitsplätzen "fliegend" stattfindet. Zusätzliche Arbeitsplätze müssen somit nicht mit starr verlegtem Installationskabel nachgerüstet werden.


Professional 19" Housing with decent Design
The COMPACTline MAXI housing provides for a clear and organized wiring system. It's 19" frame and 6 modular slots offer sufficient space for active and passive components. It supports patch fields with up to 48 x RJ45 connections and is designed to accommodate for example the SWITCHline16A or 24A.Devices which are not 19" in standard size, for example a print server or any router, can be placed on the rack-mount panel which is found in the upper half of the MAXI unit. Depending on your requirements, additional mounting racks can be purchased to stack on top of the MAXI housing. As with the COMPACTline MINI housing, the COMPACTline MAXI housing is equipped with a cable canal and vertical order separation. The cable is laid through and secured by an appropriate strain relief attachment which helps to avoid unwanted buckling or piercing of the cable. The power supply is channeled through an integrated 5-fold plug panel. Unauthorized access can be prevented by a lockable door on the housing. The COMPACTline MAXI solution is suited for workgroup environments. Within this housing configuration the entire workgroup can be served by the in-house backbone and the cabling to the workstations can be carried out quickly and effortlessly..There will be no need therefore, to connect additional work stations using rigid installation cable.


Technische Daten

- 19" Rahmen, 6HE
- 24 Port Patchfeld mit Modulen RJ45
- Seitliche Führungskanäle
- Vertikale Ordnungstrennung
- Zugentlastung
- 5-fach Stromleiste
- 1 Aufsatz für Zusatzgerät
- Farbige Fronttür, abschließbar


Technische Daten
· 19 inch frame, 6 standard height units.· 24 port patch field with RJ45 modules.· Cable channels.· Vertical order separation.· Strain relief.· 5-fold plug panel.· 1 attachment panel for additional device· Colored front door (orange), lockable



Produkte
| | | |
| --- | --- | --- |
| Beschreibung | Bestellnummer | Preis |
| COMPACTlineMAXI,Leergeh.+24p Patchp.+Steckdosenl. | CS-23-544-20 | 601.02 EUR |
| COMPACTlineMAXI + SWITCHline16A | CS-23-544-21 | 785.24 EUR |
| COMPACTlineMAXI + SWITCHline16A + PRINTline100A/3 | CS-23-544-22 | 959.36 EUR |
| COMPACTlineMAXI + SWITCHline24A | CS-23-544-23 | 916.46 EUR |
| COMPACTlineMAXI + SWITCHline24A + PRINTline100A/3 | CS-23-544-24 | 1090.58 EUR |
| COMPACTlineMAXI + GIGAline1008 Switch | CS-23-544-25 | 785.24 EUR |
| COMPACTlineMaxi + GIGAline1008 + Printline100A/3 | CS-23-544-26 | 959.36 EUR |
| COMPACTlineMAXI +GIGAline2024 | CS-23-544-27 | 1130.95 EUR |
| COMPACTlineMAXI+GIGAl.2024+PRINTl.100A/3 | CS-23-544-28 | 1305.07 EUR |
---
Alle Preise verstehen sich rein netto, in EUR, zzgl. der gesetzlich gültigen MwSt.Darüber hinaus gelten ausschließlich die "Allgemeinen Geschäftsbedingungen" der Firma cyberpresent.de.
---
---
© Copyright by cyberpresent.de